Deprecated: Non-static method JModuleHelper::getModules() should not be called statically, assuming $this from incompatible context in /depo/web490/2010/odak/libraries/joomla/document/html/html.php on line 272 Deprecated: Non-static method JModuleHelper::_load() should not be called statically, assuming $this from incompatible context in /depo/web490/2010/odak/libraries/joomla/application/module/helper.php on line 88 Deprecated: Non-static method JRequest::getBool() should not be called statically, assuming $this from incompatible context in /depo/web490/2010/odak/libraries/joomla/application/module/helper.php on line 97 Deprecated: Non-static method JRequest::getVar() should not be called statically, assuming $this from incompatible context in /depo/web490/2010/odak/libraries/joomla/environment/request.php on line 217 Deprecated: Non-static method JRequest::_cleanVar() should not be called statically, assuming $this from incompatible context in /depo/web490/2010/odak/libraries/joomla/environment/request.php on line 151 Deprecated: Non-static method JFilterInput::getInstance() should not be called statically, assuming $this from incompatible context in /depo/web490/2010/odak/libraries/joomla/environment/request.php on line 577 Deprecated: Non-static method JModuleHelper::getModules() should not be called statically, assuming $this from incompatible context in /depo/web490/2010/odak/libraries/joomla/document/html/html.php on line 272 Deprecated: Non-static method JModuleHelper::_load() should not be called statically, assuming $this from incompatible context in /depo/web490/2010/odak/libraries/joomla/application/module/helper.php on line 88 Deprecated: Non-static method JRequest::getBool() should not be called statically, assuming $this from incompatible context in /depo/web490/2010/odak/libraries/joomla/application/module/helper.php on line 97 Deprecated: Non-static method JRequest::getVar() should not be called statically, assuming $this from incompatible context in /depo/web490/2010/odak/libraries/joomla/environment/request.php on line 217 Deprecated: Non-static method JRequest::_cleanVar() should not be called statically, assuming $this from incompatible context in /depo/web490/2010/odak/libraries/joomla/environment/request.php on line 151 Deprecated: Non-static method JFilterInput::getInstance() should not be called statically, assuming $this from incompatible context in /depo/web490/2010/odak/libraries/joomla/environment/request.php on line 577
Strict Standards: Non-static method JLoader::import() should not be called statically in /depo/web490/2010/odak/libraries/loader.php on line 186 Strict Standards: Non-static method JLoader::register() should not be called statically in /depo/web490/2010/odak/libraries/loader.php on line 71 Strict Standards: Non-static method JLoader::load() should not be called statically in /depo/web490/2010/odak/libraries/loader.php on line 161 Strict Standards: Non-static method JLoader::register() should not be called statically in /depo/web490/2010/odak/libraries/loader.php on line 138 Strict Standards: Declaration of ContentController::display() should be compatible with JController::display($cachable = false) in /depo/web490/2010/odak/components/com_content/controller.php on line 28 Strict Standards: Non-static method JLoader::import() should not be called statically in /depo/web490/2010/odak/libraries/loader.php on line 186 Strict Standards: Non-static method JLoader::import() should not be called statically in /depo/web490/2010/odak/libraries/loader.php on line 186 Strict Standards: Non-static method JLoader::import() should not be called statically in /depo/web490/2010/odak/libraries/loader.php on line 186 Strict Standards: Non-static method JLoader::register() should not be called statically in /depo/web490/2010/odak/libraries/loader.php on line 71 Strict Standards: Non-static method JLoader::load() should not be called statically in /depo/web490/2010/odak/libraries/loader.php on line 161 Strict Standards: Non-static method JLoader::register() should not be called statically in /depo/web490/2010/odak/libraries/loader.php on line 138 Deprecated: Non-static method JModel::addIncludePath() should not be called statically, assuming $this from incompatible context in /depo/web490/2010/odak/libraries/joomla/application/component/controller.php on line 382 Strict Standards: Non-static method JLoader::import() should not be called statically in /depo/web490/2010/odak/libraries/loader.php on line 186 Deprecated: Non-static method JPath::clean() should not be called statically, assuming $this from incompatible context in /depo/web490/2010/odak/libraries/joomla/application/component/model.php on line 253 Deprecated: Non-static method JRequest::getVar() should not be called statically, assuming $this from incompatible context in /depo/web490/2010/odak/components/com_content/content.php on line 35 Strict Standards: Non-static method JLoader::load() should not be called statically in /depo/web490/2010/odak/libraries/loader.php on line 161 Strict Standards: Non-static method JLoader::register() should not be called statically in /depo/web490/2010/odak/libraries/loader.php on line 138 Deprecated: Non-static method JHTML::_() should not be called statically, assuming $this from incompatible context in /depo/web490/2010/odak/components/com_content/controller.php on line 37 Strict Standards: Non-static method JLoader::load() should not be called statically in /depo/web490/2010/odak/libraries/loader.php on line 161 Strict Standards: Non-static method JLoader::register() should not be called statically in /depo/web490/2010/odak/libraries/loader.php on line 138 Strict Standards: Non-static method JLoader::import() should not be called statically in /depo/web490/2010/odak/libraries/loader.php on line 186 Deprecated: Non-static method JPath::find() should not be called statically, assuming $this from incompatible context in /depo/web490/2010/odak/libraries/joomla/html/html.php on line 66 Deprecated: Non-static method JHTML::addIncludePath() should not be called statically, assuming $this from incompatible context in /depo/web490/2010/odak/libraries/joomla/html/html.php on line 66 Strict Standards: call_user_func_array() expects parameter 1 to be a valid callback, non-static method JHTMLBehavior::caption() should not be called statically in /depo/web490/2010/odak/libraries/joomla/html/html.php on line 91 Strict Standards: Non-static method JHTML::script() should not be called statically in /depo/web490/2010/odak/libraries/joomla/html/html/behavior.php on line 63 Strict Standards: Non-static method JHTML::_() should not be called statically in /depo/web490/2010/odak/libraries/joomla/html/html.php on line 172 Strict Standards: call_user_func_array() expects parameter 1 to be a valid callback, non-static method JHTMLBehavior::mootools() should not be called statically in /depo/web490/2010/odak/libraries/joomla/html/html.php on line 91 Strict Standards: Non-static method JFactory::getConfig() should not be called statically in /depo/web490/2010/odak/libraries/joomla/html/html/behavior.php on line 46 Strict Standards: Non-static method JHTML::script() should not be called statically in /depo/web490/2010/odak/libraries/joomla/html/html/behavior.php on line 56 Strict Standards: Non-static method JURI::root() should not be called statically in /depo/web490/2010/odak/libraries/joomla/html/html.php on line 176 Strict Standards: Non-static method JURI::base() should not be called statically in /depo/web490/2010/odak/libraries/joomla/environment/uri.php on line 250 Strict Standards: Non-static method JURI::getInstance() should not be called statically in /depo/web490/2010/odak/libraries/joomla/environment/uri.php on line 250 Strict Standards: Non-static method JFactory::getDocument() should not be called statically in /depo/web490/2010/odak/libraries/joomla/html/html.php on line 179 Strict Standards: Non-static method JURI::root() should not be called statically in /depo/web490/2010/odak/libraries/joomla/html/html.php on line 176 Strict Standards: Non-static method JFactory::getDocument() should not be called statically in /depo/web490/2010/odak/libraries/joomla/html/html.php on line 179 Deprecated: Non-static method JRequest::getCmd() should not be called statically, assuming $this from incompatible context in /depo/web490/2010/odak/components/com_content/controller.php on line 40 Deprecated: Non-static method JRequest::getVar() should not be called statically, assuming $this from incompatible context in /depo/web490/2010/odak/libraries/joomla/environment/request.php on line 255 Deprecated: Non-static method JRequest::_cleanVar() should not be called statically, assuming $this from incompatible context in /depo/web490/2010/odak/libraries/joomla/environment/request.php on line 140 Deprecated: Non-static method JFilterInput::getInstance() should not be called statically, assuming $this from incompatible context in /depo/web490/2010/odak/libraries/joomla/environment/request.php on line 577 Deprecated: Non-static method JFactory::getUser() should not be called statically, assuming $this from incompatible context in /depo/web490/2010/odak/components/com_content/controller.php on line 46 Strict Standards: Non-static method JLoader::import() should not be called statically in /depo/web490/2010/odak/libraries/loader.php on line 186 Deprecated: Non-static method JFactory::getSession() should not be called statically, assuming $this from incompatible context in /depo/web490/2010/odak/libraries/joomla/factory.php on line 163 Deprecated: Non-static method JRequest::getVar() should not be called statically, assuming $this from incompatible context in /depo/web490/2010/odak/components/com_content/controller.php on line 47 Deprecated: Non-static method JRequest::_cleanVar() should not be called statically, assuming $this from incompatible context in /depo/web490/2010/odak/libraries/joomla/environment/request.php on line 140 Deprecated: Non-static method JFilterInput::getInstance() should not be called statically, assuming $this from incompatible context in /depo/web490/2010/odak/libraries/joomla/environment/request.php on line 577 Deprecated: preg_replace(): The /e modifier is deprecated, use preg_replace_callback instead in /depo/web490/2010/odak/libraries/joomla/filter/filterinput.php on line 501 Deprecated: preg_replace(): The /e modifier is deprecated, use preg_replace_callback instead in /depo/web490/2010/odak/libraries/joomla/filter/filterinput.php on line 503 Deprecated: Non-static method JRequest::getVar() should not be called statically, assuming $this from incompatible context in /depo/web490/2010/odak/components/com_content/controller.php on line 48 Deprecated: Non-static method JRequest::_cleanVar() should not be called statically, assuming $this from incompatible context in /depo/web490/2010/odak/libraries/joomla/environment/request.php on line 151 Deprecated: Non-static method JFilterInput::getInstance() should not be called statically, assuming $this from incompatible context in /depo/web490/2010/odak/libraries/joomla/environment/request.php on line 577 Deprecated: Non-static method JFactory::getDocument() should not be called statically, assuming $this from incompatible context in /depo/web490/2010/odak/libraries/joomla/application/component/controller.php on line 287 Deprecated: Non-static method JRequest::getCmd() should not be called statically, assuming $this from incompatible context in /depo/web490/2010/odak/libraries/joomla/application/component/controller.php on line 290 Deprecated: Non-static method JRequest::getVar() should not be called statically, assuming $this from incompatible context in /depo/web490/2010/odak/libraries/joomla/environment/request.php on line 255 Deprecated: Non-static method JRequest::getCmd() should not be called statically, assuming $this from incompatible context in /depo/web490/2010/odak/libraries/joomla/application/component/controller.php on line 291 Deprecated: Non-static method JRequest::getVar() should not be called statically, assuming $this from incompatible context in /depo/web490/2010/odak/libraries/joomla/environment/request.php on line 255 Deprecated: Non-static method JRequest::_cleanVar() should not be called statically, assuming $this from incompatible context in /depo/web490/2010/odak/libraries/joomla/environment/request.php on line 151 Deprecated: Non-static method JFilterInput::getInstance() should not be called statically, assuming $this from incompatible context in /depo/web490/2010/odak/libraries/joomla/environment/request.php on line 577 Strict Standards: Non-static method JLoader::load() should not be called statically in /depo/web490/2010/odak/libraries/loader.php on line 161 Strict Standards: Non-static method JLoader::register() should not be called statically in /depo/web490/2010/odak/libraries/loader.php on line 138 Strict Standards: Non-static method JLoader::import() should not be called statically in /depo/web490/2010/odak/libraries/loader.php on line 186 Deprecated: Non-static method JPath::find() should not be called statically, assuming $this from incompatible context in /depo/web490/2010/odak/libraries/joomla/application/component/controller.php on line 627 Strict Standards: Non-static method JLoader::import() should not be called statically in /depo/web490/2010/odak/libraries/loader.php on line 186 Strict Standards: Non-static method JLoader::register() should not be called statically in /depo/web490/2010/odak/libraries/loader.php on line 71 Strict Standards: Non-static method JLoader::load() should not be called statically in /depo/web490/2010/odak/libraries/loader.php on line 161 Strict Standards: Non-static method JLoader::register() should not be called statically in /depo/web490/2010/odak/libraries/loader.php on line 138 Strict Standards: Non-static method JLoader::import() should not be called statically in /depo/web490/2010/odak/libraries/loader.php on line 186 Deprecated: Non-static method JMenu::getInstance() should not be called statically, assuming $this from incompatible context in /depo/web490/2010/odak/libraries/joomla/application/application.php on line 701 Deprecated: Non-static method JError::isError() should not be called statically, assuming $this from incompatible context in /depo/web490/2010/odak/libraries/joomla/application/application.php on line 702 Deprecated: Non-static method JFactory::getDBO() should not be called statically, assuming $this from incompatible context in /depo/web490/2010/odak/includes/application.php on line 300 Deprecated: Non-static method JRequest::getCmd() should not be called statically, assuming $this from incompatible context in /depo/web490/2010/odak/includes/application.php on line 310 Deprecated: Non-static method JRequest::getVar() should not be called statically, assuming $this from incompatible context in /depo/web490/2010/odak/libraries/joomla/environment/request.php on line 255 Deprecated: Non-static method JRequest::_cleanVar() should not be called statically, assuming $this from incompatible context in /depo/web490/2010/odak/libraries/joomla/environment/request.php on line 151 Deprecated: Non-static method JFilterInput::getInstance() should not be called statically, assuming $this from incompatible context in /depo/web490/2010/odak/libraries/joomla/environment/request.php on line 577 Deprecated: Non-static method JFilterInput::clean() should not be called statically, assuming $this from incompatible context in /depo/web490/2010/odak/includes/application.php on line 311 Deprecated: Non-static method JURI::base() should not be called statically, assuming $this from incompatible context in /depo/web490/2010/odak/libraries/joomla/application/component/view.php on line 178 Deprecated: Non-static method JHTML::addIncludePath() should not be called statically, assuming $this from incompatible context in /depo/web490/2010/odak/components/com_content/view.php on line 13 Deprecated: Non-static method JPath::clean() should not be called statically, assuming $this from incompatible context in /depo/web490/2010/odak/libraries/joomla/html/html.php on line 326 Deprecated: Non-static method JModel::getInstance() should not be called statically, assuming $this from incompatible context in /depo/web490/2010/odak/libraries/joomla/application/component/controller.php on line 592 Strict Standards: Non-static method JLoader::load() should not be called statically in /depo/web490/2010/odak/libraries/loader.php on line 161 Strict Standards: Non-static method JLoader::register() should not be called statically in /depo/web490/2010/odak/libraries/loader.php on line 138 Strict Standards: Non-static method JLoader::import() should not be called statically in /depo/web490/2010/odak/libraries/loader.php on line 186 Deprecated: Non-static method JPath::find() should not be called statically, assuming $this from incompatible context in /depo/web490/2010/odak/libraries/joomla/application/component/model.php on line 112 Deprecated: Non-static method JModel::addIncludePath() should not be called statically, assuming $this from incompatible context in /depo/web490/2010/odak/libraries/joomla/application/component/model.php on line 113 Deprecated: Non-static method JModel::_createFileName() should not be called statically, assuming $this from incompatible context in /depo/web490/2010/odak/libraries/joomla/application/component/model.php on line 114 Strict Standards: Non-static method JLoader::import() should not be called statically in /depo/web490/2010/odak/libraries/loader.php on line 186 Deprecated: Non-static method JFactory::getDBO() should not be called statically, assuming $this from incompatible context in /depo/web490/2010/odak/libraries/joomla/application/component/model.php on line 83 Strict Standards: Non-static method JLoader::import() should not be called statically in /depo/web490/2010/odak/libraries/loader.php on line 186 Deprecated: Non-static method JTable::addIncludePath() should not be called statically, assuming $this from incompatible context in /depo/web490/2010/odak/libraries/joomla/application/component/model.php on line 268 Deprecated: Non-static method JRequest::getVar() should not be called statically, assuming $this from incompatible context in /depo/web490/2010/odak/components/com_content/models/article.php on line 45 Deprecated: Non-static method JRequest::_cleanVar() should not be called statically, assuming $this from incompatible context in /depo/web490/2010/odak/libraries/joomla/environment/request.php on line 140 Deprecated: Non-static method JFilterInput::getInstance() should not be called statically, assuming $this from incompatible context in /depo/web490/2010/odak/libraries/joomla/environment/request.php on line 577 Deprecated: Non-static method JFactory::getApplication() should not be called statically, assuming $this from incompatible context in /depo/web490/2010/odak/libraries/joomla/application/component/controller.php on line 356 Strict Standards: Non-static method JLoader::import() should not be called statically in /depo/web490/2010/odak/libraries/loader.php on line 186 Deprecated: Non-static method JMenu::getInstance() should not be called statically, assuming $this from incompatible context in /depo/web490/2010/odak/libraries/joomla/application/application.php on line 701 Deprecated: Non-static method JError::isError() should not be called statically, assuming $this from incompatible context in /depo/web490/2010/odak/libraries/joomla/application/application.php on line 702 Deprecated: Non-static method JRegistryFormat::getInstance() should not be called statically, assuming $this from incompatible context in /depo/web490/2010/odak/libraries/joomla/registry/registry.php on line 373 Deprecated: Non-static method JFilterInput::clean() should not be called statically, assuming $this from incompatible context in /depo/web490/2010/odak/libraries/joomla/registry/format.php on line 45 Deprecated: Non-static method JFactory::getCache() should not be called statically, assuming $this from incompatible context in /depo/web490/2010/odak/libraries/joomla/application/component/controller.php on line 307 Deprecated: Non-static method JFactory::getConfig() should not be called statically, assuming $this from incompatible context in /depo/web490/2010/odak/libraries/joomla/factory.php on line 192 Strict Standards: Non-static method JLoader::import() should not be called statically in /depo/web490/2010/odak/libraries/loader.php on line 186 Deprecated: Non-static method JCache::getInstance() should not be called statically, assuming $this from incompatible context in /depo/web490/2010/odak/libraries/joomla/factory.php on line 208 Strict Standards: Non-static method JLoader::load() should not be called statically in /depo/web490/2010/odak/libraries/loader.php on line 161 Strict Standards: Non-static method JLoader::register() should not be called statically in /depo/web490/2010/odak/libraries/loader.php on line 138 Strict Standards: Declaration of JCacheView::get() should be compatible with JCache::get($id, $group = NULL) in /depo/web490/2010/odak/libraries/joomla/cache/handler/view.php on line 150 Deprecated: Non-static method JRequest::getCmd() should not be called statically, assuming $this from incompatible context in /depo/web490/2010/odak/libraries/joomla/cache/cache.php on line 87 Deprecated: Non-static method JRequest::getVar() should not be called statically, assuming $this from incompatible context in /depo/web490/2010/odak/libraries/joomla/environment/request.php on line 255 Deprecated: Non-static method JRequest::_cleanVar() should not be called statically, assuming $this from incompatible context in /depo/web490/2010/odak/libraries/joomla/environment/request.php on line 151 Deprecated: Non-static method JFilterInput::getInstance() should not be called statically, assuming $this from incompatible context in /depo/web490/2010/odak/libraries/joomla/environment/request.php on line 577 Deprecated: Non-static method JRequest::getURI() should not be called statically, assuming $this from incompatible context in /depo/web490/2010/odak/libraries/joomla/cache/handler/view.php on line 148 Deprecated: Non-static method JFactory::getURI() should not be called statically, assuming $this from incompatible context in /depo/web490/2010/odak/libraries/joomla/environment/request.php on line 51 Strict Standards: Non-static method JLoader::import() should not be called statically in /depo/web490/2010/odak/libraries/loader.php on line 186 Deprecated: Non-static method JURI::getInstance() should not be called statically, assuming $this from incompatible context in /depo/web490/2010/odak/libraries/joomla/factory.php on line 402 Deprecated: Non-static method JCacheStorage::getInstance() should not be called statically, assuming $this from incompatible context in /depo/web490/2010/odak/libraries/joomla/cache/cache.php on line 313 Deprecated: Non-static method JFactory::getConfig() should not be called statically, assuming $this from incompatible context in /depo/web490/2010/odak/libraries/joomla/cache/storage/file.php on line 37 Deprecated: Non-static method JError::isError() should not be called statically, assuming $this from incompatible context in /depo/web490/2010/odak/libraries/joomla/cache/cache.php on line 206 Deprecated: Non-static method JFactory::getDocument() should not be called statically, assuming $this from incompatible context in /depo/web490/2010/odak/libraries/joomla/cache/handler/view.php on line 85 Deprecated: Non-static method JFactory::getUser() should not be called statically, assuming $this from incompatible context in /depo/web490/2010/odak/components/com_content/views/article/view.html.php on line 33 Strict Standards: Non-static method JLoader::import() should not be called statically in /depo/web490/2010/odak/libraries/loader.php on line 186 Deprecated: Non-static method JFactory::getSession() should not be called statically, assuming $this from incompatible context in /depo/web490/2010/odak/libraries/joomla/factory.php on line 163 Deprecated: Non-static method JFactory::getDocument() should not be called statically, assuming $this from incompatible context in /depo/web490/2010/odak/components/com_content/views/article/view.html.php on line 34 Deprecated: Non-static method JDispatcher::getInstance() should not be called statically, assuming $this from incompatible context in /depo/web490/2010/odak/components/com_content/views/article/view.html.php on line 35 Strict Standards: Non-static method JLoader::import() should not be called statically in /depo/web490/2010/odak/libraries/loader.php on line 186 Strict Standards: Non-static method JLoader::register() should not be called statically in /depo/web490/2010/odak/libraries/loader.php on line 71 Strict Standards: Non-static method JLoader::load() should not be called statically in /depo/web490/2010/odak/libraries/loader.php on line 161 Strict Standards: Non-static method JLoader::register() should not be called statically in /depo/web490/2010/odak/libraries/loader.php on line 138 Deprecated: Non-static method JPathway::getInstance() should not be called statically, assuming $this from incompatible context in /depo/web490/2010/odak/libraries/joomla/application/application.php on line 678 Deprecated: Non-static method JApplicationHelper::getClientInfo() should not be called statically, assuming $this from incompatible context in /depo/web490/2010/odak/libraries/joomla/application/pathway.php on line 75 Deprecated: Non-static method JSite::getMenu() should not be called statically, assuming $this from incompatible context in /depo/web490/2010/odak/includes/pathway.php on line 34 Deprecated: Non-static method JApplication::getMenu() should not be called statically, assuming $this from incompatible context in /depo/web490/2010/odak/includes/application.php on line 345 Strict Standards: Non-static method JLoader::import() should not be called statically in /depo/web490/2010/odak/libraries/loader.php on line 186 Deprecated: Non-static method JMenu::getInstance() should not be called statically, assuming $this from incompatible context in /depo/web490/2010/odak/libraries/joomla/application/application.php on line 701 Deprecated: Non-static method JError::isError() should not be called statically, assuming $this from incompatible context in /depo/web490/2010/odak/libraries/joomla/application/application.php on line 702 Deprecated: Non-static method JError::isError() should not be called statically, assuming $this from incompatible context in /depo/web490/2010/odak/libraries/joomla/application/application.php on line 679 Deprecated: Non-static method JComponentHelper::getParams() should not be called statically, assuming $this from incompatible context in /depo/web490/2010/odak/includes/application.php on line 240 Strict Standards: Non-static method JLoader::import() should not be called statically in /depo/web490/2010/odak/libraries/loader.php on line 186 Deprecated: Non-static method JMenu::getInstance() should not be called statically, assuming $this from incompatible context in /depo/web490/2010/odak/libraries/joomla/application/application.php on line 701 Deprecated: Non-static method JError::isError() should not be called statically, assuming $this from incompatible context in /depo/web490/2010/odak/libraries/joomla/application/application.php on line 702 Deprecated: Non-static method JFactory::getConfig() should not be called statically, assuming $this from incompatible context in /depo/web490/2010/odak/libraries/joomla/application/application.php on line 384 Deprecated: Non-static method JFactory::getConfig() should not be called statically, assuming $this from incompatible context in /depo/web490/2010/odak/libraries/joomla/application/application.php on line 384 Deprecated: Non-static method JRegistryFormat::getInstance() should not be called statically, assuming $this from incompatible context in /depo/web490/2010/odak/libraries/joomla/registry/registry.php on line 373 Deprecated: Non-static method JFilterInput::clean() should not be called statically, assuming $this from incompatible context in /depo/web490/2010/odak/libraries/joomla/registry/format.php on line 45 Deprecated: Non-static method ContentHelperQuery::buildVotingQuery() should not be called statically, assuming $this from incompatible context in /depo/web490/2010/odak/components/com_content/models/article.php on line 526 Deprecated: Non-static method JFactory::getUser() should not be called statically, assuming $this from incompatible context in /depo/web490/2010/odak/components/com_content/models/article.php on line 608 Strict Standards: Non-static method JLoader::import() should not be called statically in /depo/web490/2010/odak/libraries/loader.php on line 186 Deprecated: Non-static method JFactory::getSession() should not be called statically, assuming $this from incompatible context in /depo/web490/2010/odak/libraries/joomla/factory.php on line 163 Deprecated: Non-static method JFactory::getDate() should not be called statically, assuming $this from incompatible context in /depo/web490/2010/odak/components/com_content/models/article.php on line 611 Strict Standards: Non-static method JLoader::import() should not be called statically in /depo/web490/2010/odak/libraries/loader.php on line 186 Strict Standards: Non-static method JLoader::register() should not be called statically in /depo/web490/2010/odak/libraries/loader.php on line 71 Deprecated: Non-static method JFactory::getLanguage() should not be called statically, assuming $this from incompatible context in /depo/web490/2010/odak/libraries/joomla/factory.php on line 426 Strict Standards: Non-static method JLoader::load() should not be called statically in /depo/web490/2010/odak/libraries/loader.php on line 161 Strict Standards: Non-static method JLoader::register() should not be called statically in /depo/web490/2010/odak/libraries/loader.php on line 138 Deprecated: Non-static method JFactory::getACL() should not be called statically, assuming $this from incompatible context in /depo/web490/2010/odak/libraries/joomla/user/user.php on line 260 Deprecated: Non-static method JFactory::_createACL() should not be called statically, assuming $this from incompatible context in /depo/web490/2010/odak/libraries/joomla/factory.php on line 227 Strict Standards: Non-static method JLoader::import() should not be called statically in /depo/web490/2010/odak/libraries/loader.php on line 186 Strict Standards: Non-static method JLoader::register() should not be called statically in /depo/web490/2010/odak/libraries/loader.php on line 71 Deprecated: Non-static method JFactory::getDBO() should not be called statically, assuming $this from incompatible context in /depo/web490/2010/odak/libraries/joomla/factory.php on line 526 Strict Standards: Non-static method JLoader::load() should not be called statically in /depo/web490/2010/odak/libraries/loader.php on line 161 Strict Standards: Non-static method JLoader::register() should not be called statically in /depo/web490/2010/odak/libraries/loader.php on line 138 Strict Standards: Non-static method JLoader::import() should not be called statically in /depo/web490/2010/odak/libraries/loader.php on line 186 Strict Standards: Non-static method JLoader::import() should not be called statically in /depo/web490/2010/odak/libraries/loader.php on line 186 Strict Standards: Non-static method JLoader::load() should not be called statically in /depo/web490/2010/odak/libraries/loader.php on line 161 Strict Standards: Non-static method JLoader::register() should not be called statically in /depo/web490/2010/odak/libraries/loader.php on line 138 Deprecated: Non-static method JText::_() should not be called statically, assuming $this from incompatible context in /depo/web490/2010/odak/components/com_content/models/article.php on line 550 Deprecated: Non-static method JFactory::getLanguage() should not be called statically, assuming $this from incompatible context in /depo/web490/2010/odak/libraries/joomla/methods.php on line 120 Deprecated: Non-static method JFactory::getUser() should not be called statically, assuming $this from incompatible context in /depo/web490/2010/odak/components/com_content/models/article.php on line 110 Strict Standards: Non-static method JLoader::import() should not be called statically in /depo/web490/2010/odak/libraries/loader.php on line 186 Deprecated: Non-static method JFactory::getSession() should not be called statically, assuming $this from incompatible context in /depo/web490/2010/odak/libraries/joomla/factory.php on line 163 Deprecated: Non-static method JRegistryFormat::getInstance() should not be called statically, assuming $this from incompatible context in /depo/web490/2010/odak/libraries/joomla/registry/registry.php on line 373 Deprecated: Non-static method JFilterInput::clean() should not be called statically, assuming $this from incompatible context in /depo/web490/2010/odak/libraries/joomla/registry/format.php on line 45 Deprecated: Non-static method JRequest::getVar() should not be called statically, assuming $this from incompatible context in /depo/web490/2010/odak/components/com_content/models/article.php on line 583 Deprecated: Non-static method JRequest::_cleanVar() should not be called statically, assuming $this from incompatible context in /depo/web490/2010/odak/libraries/joomla/environment/request.php on line 151 Deprecated: Non-static method JFilterInput::getInstance() should not be called statically, assuming $this from incompatible context in /depo/web490/2010/odak/libraries/joomla/environment/request.php on line 577 Deprecated: Non-static method JRequest::getVar() should not be called statically, assuming $this from incompatible context in /depo/web490/2010/odak/components/com_content/views/article/view.html.php on line 60 Deprecated: Non-static method JRequest::_cleanVar() should not be called statically, assuming $this from incompatible context in /depo/web490/2010/odak/libraries/joomla/environment/request.php on line 151 Deprecated: Non-static method JFilterInput::getInstance() should not be called statically, assuming $this from incompatible context in /depo/web490/2010/odak/libraries/joomla/environment/request.php on line 577 Deprecated: Non-static method JTable::getInstance() should not be called statically, assuming $this from incompatible context in /depo/web490/2010/odak/components/com_content/models/article.php on line 181 Strict Standards: Non-static method JLoader::load() should not be called statically in /depo/web490/2010/odak/libraries/loader.php on line 161 Strict Standards: Non-static method JLoader::register() should not be called statically in /depo/web490/2010/odak/libraries/loader.php on line 138 Strict Standards: Non-static method JLoader::import() should not be called statically in /depo/web490/2010/odak/libraries/loader.php on line 186 Deprecated: Non-static method JPath::find() should not be called statically, assuming $this from incompatible context in /depo/web490/2010/odak/libraries/joomla/database/table.php on line 91 Deprecated: Non-static method JTable::addIncludePath() should not be called statically, assuming $this from incompatible context in /depo/web490/2010/odak/libraries/joomla/database/table.php on line 91 Deprecated: Non-static method JFactory::getDBO() should not be called statically, assuming $this from incompatible context in /depo/web490/2010/odak/libraries/joomla/database/table.php on line 112 Deprecated: Non-static method JFactory::getACL() should not be called statically, assuming $this from incompatible context in /depo/web490/2010/odak/libraries/joomla/user/user.php on line 260 Deprecated: Non-static method JFactory::getACL() should not be called statically, assuming $this from incompatible context in /depo/web490/2010/odak/libraries/joomla/user/user.php on line 260 Deprecated: Non-static method JFactory::getACL() should not be called statically, assuming $this from incompatible context in /depo/web490/2010/odak/libraries/joomla/user/user.php on line 260 Deprecated: Non-static method JRoute::_() should not be called statically, assuming $this from incompatible context in /depo/web490/2010/odak/components/com_content/views/article/view.html.php on line 78 Deprecated: Non-static method ContentHelperRoute::getArticleRoute() should not be called statically, assuming $this from incompatible context in /depo/web490/2010/odak/components/com_content/views/article/view.html.php on line 78 Deprecated: Non-static method ContentHelperRoute::_findItem() should not be called statically, assuming $this from incompatible context in /depo/web490/2010/odak/components/com_content/helpers/route.php on line 49 Deprecated: Non-static method JComponentHelper::getComponent() should not be called statically, assuming $this from incompatible context in /depo/web490/2010/odak/components/com_content/helpers/route.php on line 97 Deprecated: Non-static method JComponentHelper::_load() should not be called statically, assuming $this from incompatible context in /depo/web490/2010/odak/libraries/joomla/application/component/helper.php on line 39 Deprecated: Non-static method JApplication::getMenu() should not be called statically, assuming $this from incompatible context in /depo/web490/2010/odak/components/com_content/helpers/route.php on line 99 Strict Standards: Non-static method JLoader::import() should not be called statically in /depo/web490/2010/odak/libraries/loader.php on line 186 Deprecated: Non-static method JMenu::getInstance() should not be called statically, assuming $this from incompatible context in /depo/web490/2010/odak/libraries/joomla/application/application.php on line 701 Deprecated: Non-static method JError::isError() should not be called statically, assuming $this from incompatible context in /depo/web490/2010/odak/libraries/joomla/application/application.php on line 702 Deprecated: Non-static method JFactory::getApplication() should not be called statically, assuming $this from incompatible context in /depo/web490/2010/odak/libraries/joomla/methods.php on line 41 Deprecated: Non-static method JFactory::getConfig() should not be called statically, assuming $this from incompatible context in /depo/web490/2010/odak/includes/application.php on line 372 Strict Standards: Non-static method JLoader::import() should not be called statically in /depo/web490/2010/odak/libraries/loader.php on line 186 Deprecated: Non-static method JRouter::getInstance() should not be called statically, assuming $this from incompatible context in /depo/web490/2010/odak/libraries/joomla/application/application.php on line 655 Deprecated: Non-static method JError::isError() should not be called statically, assuming $this from incompatible context in /depo/web490/2010/odak/libraries/joomla/application/application.php on line 656 Deprecated: Non-static method JSite::getMenu() should not be called statically, assuming $this from incompatible context in /depo/web490/2010/odak/includes/router.php on line 419 Deprecated: Non-static method JApplication::getMenu() should not be called statically, assuming $this from incompatible context in /depo/web490/2010/odak/includes/application.php on line 345 Strict Standards: Non-static method JLoader::import() should not be called statically in /depo/web490/2010/odak/libraries/loader.php on line 186 Deprecated: Non-static method JMenu::getInstance() should not be called statically, assuming $this from incompatible context in /depo/web490/2010/odak/libraries/joomla/application/application.php on line 701 Deprecated: Non-static method JError::isError() should not be called statically, assuming $this from incompatible context in /depo/web490/2010/odak/libraries/joomla/application/application.php on line 702 Deprecated: Non-static method JURI::base() should not be called statically, assuming $this from incompatible context in /depo/web490/2010/odak/includes/router.php on line 109 Deprecated: Non-static method JPluginHelper::importPlugin() should not be called statically, assuming $this from incompatible context in /depo/web490/2010/odak/components/com_content/views/article/view.html.php on line 101 Deprecated: Non-static method JPluginHelper::_load() should not be called statically, assuming $this from incompatible context in /depo/web490/2010/odak/libraries/joomla/plugin/helper.php on line 92 Deprecated: Non-static method JPluginHelper::_import() should not be called statically, assuming $this from incompatible context in /depo/web490/2010/odak/libraries/joomla/plugin/helper.php on line 97 Strict Standards: Non-static method JLoader::import() should not be called statically in /depo/web490/2010/odak/libraries/loader.php on line 186 Deprecated: Non-static method JDispatcher::getInstance() should not be called statically, assuming $this from incompatible context in /depo/web490/2010/odak/libraries/joomla/application/application.php on line 486 Deprecated: Non-static method JDispatcher::getInstance() should not be called statically, assuming $this from incompatible context in /depo/web490/2010/odak/libraries/joomla/plugin/helper.php on line 140 Strict Standards: Non-static method JLoader::load() should not be called statically in /depo/web490/2010/odak/libraries/loader.php on line 161 Strict Standards: Non-static method JLoader::register() should not be called statically in /depo/web490/2010/odak/libraries/loader.php on line 138 Deprecated: Non-static method JPluginHelper::_import() should not be called statically, assuming $this from incompatible context in /depo/web490/2010/odak/libraries/joomla/plugin/helper.php on line 97 Strict Standards: Non-static method JLoader::import() should not be called statically in /depo/web490/2010/odak/libraries/loader.php on line 186 Deprecated: Non-static method JDispatcher::getInstance() should not be called statically, assuming $this from incompatible context in /depo/web490/2010/odak/libraries/joomla/application/application.php on line 486 Deprecated: Non-static method JDispatcher::getInstance() should not be called statically, assuming $this from incompatible context in /depo/web490/2010/odak/libraries/joomla/plugin/helper.php on line 140 Strict Standards: Non-static method JLoader::load() should not be called statically in /depo/web490/2010/odak/libraries/loader.php on line 161 Strict Standards: Non-static method JLoader::register() should not be called statically in /depo/web490/2010/odak/libraries/loader.php on line 138 Deprecated: Non-static method JPluginHelper::_import() should not be called statically, assuming $this from incompatible context in /depo/web490/2010/odak/libraries/joomla/plugin/helper.php on line 97 Strict Standards: Non-static method JLoader::import() should not be called statically in /depo/web490/2010/odak/libraries/loader.php on line 186 Deprecated: Non-static method JDispatcher::getInstance() should not be called statically, assuming $this from incompatible context in /depo/web490/2010/odak/libraries/joomla/application/application.php on line 486 Deprecated: Non-static method JDispatcher::getInstance() should not be called statically, assuming $this from incompatible context in /depo/web490/2010/odak/libraries/joomla/plugin/helper.php on line 140 Strict Standards: Non-static method JLoader::load() should not be called statically in /depo/web490/2010/odak/libraries/loader.php on line 161 Strict Standards: Non-static method JLoader::register() should not be called statically in /depo/web490/2010/odak/libraries/loader.php on line 138 Deprecated: Non-static method JPluginHelper::_import() should not be called statically, assuming $this from incompatible context in /depo/web490/2010/odak/libraries/joomla/plugin/helper.php on line 97 Strict Standards: Non-static method JLoader::import() should not be called statically in /depo/web490/2010/odak/libraries/loader.php on line 186 Deprecated: Non-static method JDispatcher::getInstance() should not be called statically, assuming $this from incompatible context in /depo/web490/2010/odak/libraries/joomla/application/application.php on line 486 Deprecated: Non-static method JDispatcher::getInstance() should not be called statically, assuming $this from incompatible context in /depo/web490/2010/odak/libraries/joomla/plugin/helper.php on line 140 Strict Standards: Non-static method JLoader::load() should not be called statically in /depo/web490/2010/odak/libraries/loader.php on line 161 Strict Standards: Non-static method JLoader::register() should not be called statically in /depo/web490/2010/odak/libraries/loader.php on line 138 Deprecated: Non-static method JPluginHelper::_import() should not be called statically, assuming $this from incompatible context in /depo/web490/2010/odak/libraries/joomla/plugin/helper.php on line 97 Strict Standards: Non-static method JLoader::import() should not be called statically in /depo/web490/2010/odak/libraries/loader.php on line 186 Deprecated: Non-static method JDispatcher::getInstance() should not be called statically, assuming $this from incompatible context in /depo/web490/2010/odak/libraries/joomla/application/application.php on line 486 Deprecated: Non-static method JDispatcher::getInstance() should not be called statically, assuming $this from incompatible context in /depo/web490/2010/odak/libraries/joomla/plugin/helper.php on line 140 Strict Standards: Non-static method JLoader::load() should not be called statically in /depo/web490/2010/odak/libraries/loader.php on line 161 Strict Standards: Non-static method JLoader::register() should not be called statically in /depo/web490/2010/odak/libraries/loader.php on line 138 Strict Standards: Non-static method JLoader::load() should not be called statically in /depo/web490/2010/odak/libraries/loader.php on line 161 Strict Standards: Non-static method JLoader::register() should not be called statically in /depo/web490/2010/odak/libraries/loader.php on line 138 Deprecated: iconv_set_encoding(): Use of iconv.internal_encoding is deprecated in /depo/web490/2010/odak/libraries/joomla/utilities/string.php on line 32 Deprecated: iconv_set_encoding(): Use of iconv.input_encoding is deprecated in /depo/web490/2010/odak/libraries/joomla/utilities/string.php on line 33 Deprecated: iconv_set_encoding(): Use of iconv.output_encoding is deprecated in /depo/web490/2010/odak/libraries/joomla/utilities/string.php on line 34 Strict Standards: Non-static method JString::strpos() should not be called statically in /depo/web490/2010/odak/plugins/content/emailcloak.php on line 67 Strict Standards: Non-static method JString::strpos() should not be called statically in /depo/web490/2010/odak/plugins/content/emailcloak.php on line 73 Strict Standards: Non-static method JFactory::getDBO() should not be called statically in /depo/web490/2010/odak/plugins/content/loadmodule.php on line 24 Strict Standards: Non-static method JString::strpos() should not be called statically in /depo/web490/2010/odak/plugins/content/loadmodule.php on line 26 Strict Standards: Non-static method JPluginHelper::getPlugin() should not be called statically in /depo/web490/2010/odak/plugins/content/pagebreak.php on line 39 Strict Standards: Non-static method JPluginHelper::_load() should not be called statically in /depo/web490/2010/odak/libraries/joomla/plugin/helper.php on line 41 Deprecated: Non-static method JRegistryFormat::getInstance() should not be called statically, assuming $this from incompatible context in /depo/web490/2010/odak/libraries/joomla/registry/registry.php on line 373 Deprecated: Non-static method JFilterInput::clean() should not be called statically, assuming $this from incompatible context in /depo/web490/2010/odak/libraries/joomla/registry/format.php on line 45 Strict Standards: Non-static method JRequest::getBool() should not be called statically in /depo/web490/2010/odak/plugins/content/pagebreak.php on line 42 Strict Standards: Non-static method JRequest::getVar() should not be called statically in /depo/web490/2010/odak/libraries/joomla/environment/request.php on line 217 Strict Standards: Non-static method JRequest::_cleanVar() should not be called statically in /depo/web490/2010/odak/libraries/joomla/environment/request.php on line 151 Strict Standards: Non-static method JFilterInput::getInstance() should not be called statically in /depo/web490/2010/odak/libraries/joomla/environment/request.php on line 577 Strict Standards: Non-static method JRequest::getBool() should not be called statically in /depo/web490/2010/odak/plugins/content/pagebreak.php on line 43 Strict Standards: Non-static method JRequest::getVar() should not be called statically in /depo/web490/2010/odak/libraries/joomla/environment/request.php on line 217 Strict Standards: Non-static method JRequest::_cleanVar() should not be called statically in /depo/web490/2010/odak/libraries/joomla/environment/request.php on line 151 Strict Standards: Non-static method JFilterInput::getInstance() should not be called statically in /depo/web490/2010/odak/libraries/joomla/environment/request.php on line 577 Strict Standards: Non-static method JPlugin::loadLanguage() should not be called statically in /depo/web490/2010/odak/plugins/content/pagebreak.php on line 45 Strict Standards: Non-static method JFactory::getLanguage() should not be called statically in /depo/web490/2010/odak/libraries/joomla/plugin/plugin.php on line 113 Deprecated: Non-static method JRegistryFormat::getInstance() should not be called statically, assuming $this from incompatible context in /depo/web490/2010/odak/libraries/joomla/registry/registry.php on line 373 Deprecated: Non-static method JFilterInput::clean() should not be called statically, assuming $this from incompatible context in /depo/web490/2010/odak/libraries/joomla/registry/format.php on line 45 Deprecated: Non-static method JSite::getMenu() should not be called statically, assuming $this from incompatible context in /depo/web490/2010/odak/components/com_content/views/article/view.html.php on line 110 Deprecated: Non-static method JApplication::getMenu() should not be called statically, assuming $this from incompatible context in /depo/web490/2010/odak/includes/application.php on line 345 Strict Standards: Non-static method JLoader::import() should not be called statically in /depo/web490/2010/odak/libraries/loader.php on line 186 Deprecated: Non-static method JMenu::getInstance() should not be called statically, assuming $this from incompatible context in /depo/web490/2010/odak/libraries/joomla/application/application.php on line 701 Deprecated: Non-static method JError::isError() should not be called statically, assuming $this from incompatible context in /depo/web490/2010/odak/libraries/joomla/application/application.php on line 702 Deprecated: Non-static method JRegistryFormat::getInstance() should not be called statically, assuming $this from incompatible context in /depo/web490/2010/odak/libraries/joomla/registry/registry.php on line 373 Deprecated: Non-static method JFilterInput::clean() should not be called statically, assuming $this from incompatible context in /depo/web490/2010/odak/libraries/joomla/registry/format.php on line 45 Deprecated: Non-static method JFactory::getConfig() should not be called statically, assuming $this from incompatible context in /depo/web490/2010/odak/libraries/joomla/application/application.php on line 384 Deprecated: Non-static method JFactory::getConfig() should not be called statically, assuming $this from incompatible context in /depo/web490/2010/odak/libraries/joomla/application/application.php on line 384 Deprecated: Non-static method JRegistryFormat::getInstance() should not be called statically, assuming $this from incompatible context in /depo/web490/2010/odak/libraries/joomla/registry/registry.php on line 373 Deprecated: Non-static method JFilterInput::clean() should not be called statically, assuming $this from incompatible context in /depo/web490/2010/odak/libraries/joomla/registry/format.php on line 45 Strict Standards: Non-static method JRequest::getCmd() should not be called statically in /depo/web490/2010/odak/plugins/content/pagenavigation.php on line 21 Strict Standards: Non-static method JRequest::getVar() should not be called statically in /depo/web490/2010/odak/libraries/joomla/environment/request.php on line 255 Strict Standards: Non-static method JPluginHelper::getPlugin() should not be called statically in /depo/web490/2010/odak/plugins/content/pagenavigation.php on line 24 Strict Standards: Non-static method JPluginHelper::_load() should not be called statically in /depo/web490/2010/odak/libraries/joomla/plugin/helper.php on line 41 Strict Standards: Non-static method JFactory::getURI() should not be called statically in /depo/web490/2010/odak/plugins/content/vote.php on line 21 Strict Standards: Non-static method JLoader::import() should not be called statically in /depo/web490/2010/odak/libraries/loader.php on line 186 Strict Standards: Non-static method JURI::getInstance() should not be called statically in /depo/web490/2010/odak/libraries/joomla/factory.php on line 402 Deprecated: Non-static method JRequest::getBool() should not be called statically, assuming $this from incompatible context in /depo/web490/2010/odak/components/com_content/views/article/view.html.php on line 183 Deprecated: Non-static method JRequest::getVar() should not be called statically, assuming $this from incompatible context in /depo/web490/2010/odak/libraries/joomla/environment/request.php on line 217 Deprecated: Non-static method JRequest::_cleanVar() should not be called statically, assuming $this from incompatible context in /depo/web490/2010/odak/libraries/joomla/environment/request.php on line 151 Deprecated: Non-static method JFilterInput::getInstance() should not be called statically, assuming $this from incompatible context in /depo/web490/2010/odak/libraries/joomla/environment/request.php on line 577 Strict Standards: Non-static method JLoader::import() should not be called statically in /depo/web490/2010/odak/libraries/loader.php on line 186 Deprecated: Non-static method JPath::find() should not be called statically, assuming $this from incompatible context in /depo/web490/2010/odak/libraries/joomla/application/component/view.php on line 547 Deprecated: Non-static method JError::isError() should not be called statically, assuming $this from incompatible context in /depo/web490/2010/odak/libraries/joomla/application/component/view.php on line 193 Deprecated: Non-static method JFactory::getACL() should not be called statically, assuming $this from incompatible context in /depo/web490/2010/odak/libraries/joomla/user/user.php on line 260 Deprecated: Non-static method JFactory::getACL() should not be called statically, assuming $this from incompatible context in /depo/web490/2010/odak/libraries/joomla/user/user.php on line 260
Turkcell Health Service
In accordance with the development of the technology in the direction of mobile platforms, smart devices are introduced to users which enables people use their mobile phones for too many applications. Most of these applications are based on Bluetooth and Java technology. Taking in account these fields, we decided to integrate this technology to facilitate health sector. With the support of Turkcell we will make a communication between doctors and patients immediately. Therefore, we wanted to make possible that people could be able to get health service whenever and wherever they want using their mobile phones.
In Turkcell Health Service (THS), our aim is to facilitate health sector.
Project Features
THS will be a modular product which includes following features:
Mobile consultation using 3G service
Subscriber can access to the doctors which are provided by this service 7/24. This service will provide some specific medical monitoring devices which monitors heart rate, ECG, Blood pressure Heart rhythm regularity etc. and send this information to an application running on a mobile phone via Bluetooth, then application sends this information to health service database provided that doctor needs while appointment. The system provides also a web page to doctors which include detailed information of patients.
Chronic patients are controlled with a device which patients should use 7/24. There are some critical regions for each disease decided by the doctors. If the measurements of the patients exceed critical regions, service will inform the doctor and a person who is chosen by patients before, about patient's exact location and these measurements.
This service provides an alarm mechanism which will inform the patients about his/her medicine to be taken when its time comes. This service also sends a SMS which includes the menu of his/her diet in each meal a day.
General Overview
The figure below shows the general overview of the THS.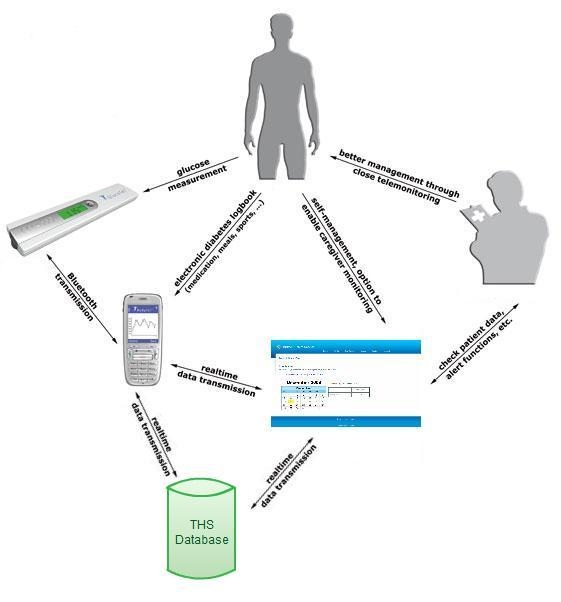 Strict Standards: Non-static method JLoader::import() should not be called statically in /depo/web490/2010/odak/libraries/loader.php on line 186 Deprecated: Non-static method JPathway::getInstance() should not be called statically, assuming $this from incompatible context in /depo/web490/2010/odak/libraries/joomla/application/application.php on line 678 Deprecated: Non-static method JError::isError() should not be called statically, assuming $this from incompatible context in /depo/web490/2010/odak/libraries/joomla/application/application.php on line 679 Deprecated: Non-static method JError::isError() should not be called statically, assuming $this from incompatible context in /depo/web490/2010/odak/libraries/joomla/cache/cache.php on line 229
Deprecated: Non-static method JModuleHelper::getModules() should not be called statically, assuming $this from incompatible context in /depo/web490/2010/odak/libraries/joomla/document/html/html.php on line 272 Deprecated: Non-static method JModuleHelper::_load() should not be called statically, assuming $this from incompatible context in /depo/web490/2010/odak/libraries/joomla/application/module/helper.php on line 88 Deprecated: Non-static method JRequest::getBool() should not be called statically, assuming $this from incompatible context in /depo/web490/2010/odak/libraries/joomla/application/module/helper.php on line 97 Deprecated: Non-static method JRequest::getVar() should not be called statically, assuming $this from incompatible context in /depo/web490/2010/odak/libraries/joomla/environment/request.php on line 217 Deprecated: Non-static method JRequest::_cleanVar() should not be called statically, assuming $this from incompatible context in /depo/web490/2010/odak/libraries/joomla/environment/request.php on line 151 Deprecated: Non-static method JFilterInput::getInstance() should not be called statically, assuming $this from incompatible context in /depo/web490/2010/odak/libraries/joomla/environment/request.php on line 577