Welcome!
Upcoming: Senior Project Contest
Hope we can get our chances to win the price. The departments senior project contest will be held on 25th June, and there will be 6 contestants from various projects.
Latest: Final package released!
(12/06/2008)
We are happy to be having successfully concluded our project and released our final package. Package content and documentation is available for download from following links.
Past: v2 demo released.
(02/05/2008)
The requirements of the v2 was successfully accomplished. We can see the light at the end of the tunnel.
v1 demo released.
(04/04/2008)
Regrettably the requirements of the v1 were not fully warranted but outcome was satisfying afterall. In other words, effort spent by the team was remarkable despite the bad score (Go HSBS!).
HSBS Sentinel v1.0 is released!
(18/01/2008)
The very first wireless sensor node HSBS Sentinel v1.0 is released. It is built on an AirTies AP-400 with a humidity temperature sensor SHT15 controlled by PIC 16F877A which is called SP07 as a whole.
SP07 v1.0 Sensor PIC Board is released!
(18/01/2008)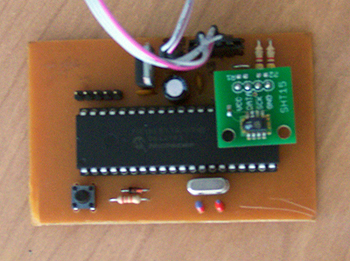 The sensor integrated PIC driven board SP07 v1.0 is also released, it is supposed to measure the humidity and temperature of the environment via sensor SHT15 and send it to AP-400 with the programmed PIC 16F877A on it.
Who is HSBS Smart ?
We do not know yet also, but the answer will emerge in time as the project makes it way through the year. Still, we might tell you team members' names: Hanifi Öztürk, Burak Cansızoğlu, Serkan Çağlar, Serdar Koçbey. We hope to learn as we try to do things related to project [or unrelated]. As Socrates reminds us again:
True knowledge exists in knowing that you know nothing.
Not that further maybe but we know that we have to spend days and nights when things turn into a mess. So please don't get upset if you don't get response even for your greetings at deadline eves.
Members
Serdar Koçbey

Chairman of the Board of Directors

Hanifi Öztürk

Chief Executer Officer

Burak Cansızoğlu

Chief Communication Officer

Serkan Çağlar

Chief Information Officer
Contact
You can contact us via e-mail : hsbs_smart[at]yahoo[dot]com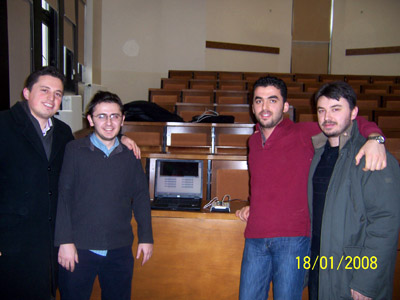 It's not over until it's over.
Well, aren't you tired enough? Let us free you of a burden, here you go:
Click Me!